Name
Experimental Mesocosm Facility at Friday Harbor Labs (FHL)
Legal name of organisation
University of Washington
Organisation address
University of Washington
School of Oceanography
1503 NE Boat Street
Seattle, WA  98105
USA
Primary contact information (PI)
Years of Mesocosm Experiments
2011-present
Description of Facility
outdoor/indoor – pelagic – marine
Outdoor in-water Mesocosms – FHL Dock:
This facility includes a floating dock with attachments for nine 2000 L plastic bags (~1 m diameter, 3 m depth). Within these bags, chemistry can be manipulated with the addition of CO2-saturated water as well as nutrients, etc.
Indoor Mesocosms-Lab 12:
The lab is supplied with conditioned water from a custom filtration and CO2 stripping system supplied by the FHL seawater source. Manipulative experiments are conducted in custom designed mixing reservoirs (white Igloo coolers). Each mixing reservoir has a recirculating pump and venturi injector which constantly aerates the water with CO2-free air. The water is circulated through a chilling loop as well. Water chemistry is monitored by a Honeywell Durafet pH electrode in each reservoir connected to Honeywell UDA2182 process controller. This controller adds CO2 to the stream of CO2-free air to achieve the desired pH setpoint (range from ~8.2 to below 7.0) and a separate temperature controller activates a submersed heater to achieve the desired temperatures (range from ~8°C to 25°C)
Controlled Parameters
independently controlled pH, CO2, temperature conditions, and nutrients
Research Topics
CO2 increase, ocean acidification, global warming, eutrophication
Equipment
The teaching and research laboratories consist of eight one-story buildings of about 1,500 square feet each and three larger two-story research buildings. Running sea water, free from metallic contamination, is delivered to plexiglass aquaria and water tables through polyethylene or PVC pipes and fittings. Walk-in cold rooms, a microtechnique room, and a shop are available. Analytical equipment for general use includes centrifuges, computers, scintillation counter, particle counter, a high performance liquid chromatograph, nucleotide sequencer, PCR thermocyclers and other equipment for molecular biology, spectrophotometers, culture chambers, fluorescence microscope, video equipment, scanning laser confocal microscope, and electrophysiological equipment. A scanning electron microscope and transmission electron microscope may be used by investigators who have or can obtain appropriate training.
Lodging
Kitchen units: The following shared housekeeping facilities on campus are available for rent to visiting researchers, faculty and graduate students pursuing independent study or working as a research/teaching assistant: twelve apartments with studio, one-, two- and three-bedroom units, twelve cottages, eight duplex units, and sixteen rooms in FHL's graduate housing facility. All units include basic furniture and are equipped with dishes, silverware, and pots and pans. Space is assigned as available. Course instructors have high priority in the assignment of housekeeping units.
Non-Kitchen Units: Dormitories and huts are non-housekeeping units. Central washroom and toilet facilities are available to the occupants. Spring, Summer and Autumn Quarter occupants of these units must subscribe to a full meal plan at the Dining Hall. Dormitory rooms are mostly double occupancy with a few single occupancy. Beds, dressers and desks are provided. Fifteen wooden huts accommodate one or two persons each. All are provided with electric light and heat, double bed, dresser and desk. Space is assigned as available.
Miscellaneous: Laundry facilities include metered washers, dryers, irons and ironing boards. Visitors are encouraged to provide their own linen and bedding. Bed kits can be rented by those unable to bring their own. There are a few cribs and high chairs available for family living quarters. Advance notice is required for bedding, cribs and high chairs.
Because the laboratory grounds are a biological preserve, cats and dogs are not allowed. Those who wish to bring pets must seek housing off-campus or board their pets at local kennels.
Bicycles are a practical means of travel to town and around campus. As a result of a generous gift from an FHL friend, there are several bicycles available that may be checked out for periods of a few days or weeks, on the condition they are returned in good order.
Photos of experiments/installations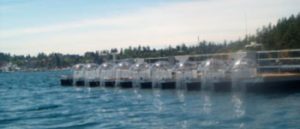 Outdoor in-water Mesocosms – FHL Dock
The large in-water mesocosms are ideal for monitoring short term responses of natural plankton communities to seawater perturbations.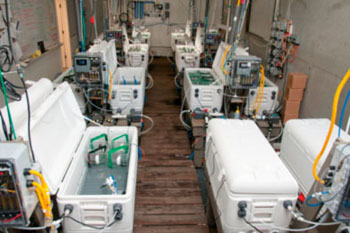 Indoor Mesocosms-Lab 12
The lab is supplied with conditioned water from a custom filtration and CO2 stripping system supplied by the FHL seawater source. This produces water that has been filtered (0.2 µm), UV sterilized and stripped of CO2, to generally less than 300 µatm.