Name
Gropello, 21026 Gavirate/Varese
Legal name of organisation
Institut Dr. Nowak (a)
Organisation address
Institut Dr. Nowak (a)
Abteilung Limnologie
Mayenbrook 1
D – 28870 Ottersberg 
University of Insubria (b)
Department of theoretical and applied sciences, Ecology unit
Via H. Dunant 3
I – 21100 Varese
Primary contact information (PI)
a) Dr. Said Yasseri
b) Prof. Dr. Giuseppe Crosa
Please login or request access to view contact information.
Years of Mesocosm Experiments
02/2009 - 07/2009 and 11/2009 - 10/2010
Description of Facility
Outdoor, pelagic/benthic, freshwater
floating platform including 3 floating PE-rings with mesocosms reaching into the sediment, 47 m³ per mesocosm, each 2 m diameter and 15 m depth (see Fig. 1)
Controlled Parameters
1)   Water: e.g. nutrients, species composition (algae & zooplankton), carbon, metals, ecotoxicology
2) Sediment: e.g. nutrients, metals, ecotoxicology
Research Topics
Nutrients, quantification of sediment P-release,
effects of lanthanum modified clay on the P-release
Equipment
Mobile mesocosm structure, can be installed on other study sites
Source of Information
Crosa G, Yasseri S, Novak K-E, Caziani A, Roella V, Zaccara S. 2013. Recovery of Lake Varese: reducing trophic status through internal P load capping, Fundamental and Applied Lmnology, Vol. 183/1, 49-61.
Photos of experiments/installations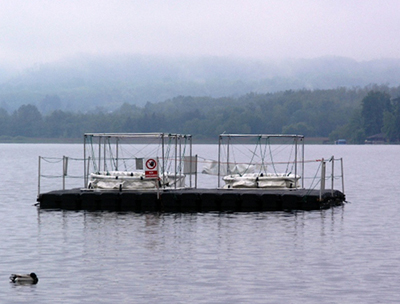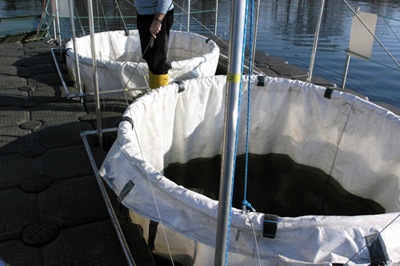 Mesocosms in Lago di Varese (Photo by Institute Dr. Novak)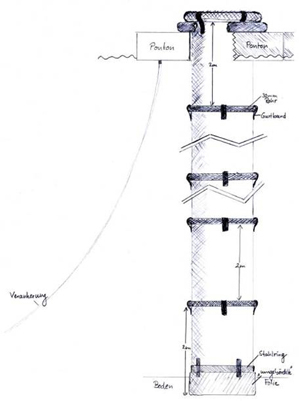 Sketch of the mesocosm construction (Dr. Yasseri)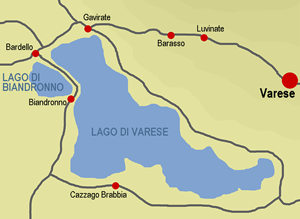 Location of Lago di Varese: Latitude 45.818369; Longitude 8.738972