Name
Marine Ecosystems Research Laboratory - MERL
Legal name of organisation
University of Rhode Island
Organisation address
University of Rhode Island
Primary contact information (PI)
Years of Mesocosm Experiments
1976-
Description of Facility
outdoor – pelagic – marine
Fourteen cylindrical enclosures, 1.8 m in diameter and 5.5 m in depth, arranged along an access deck outside and adjacent to the building
Controlled Parameters
Aquatic ecosystem studies includig nutrients, trace metals, other contaminants, salinity, hydrocarbons, larval fish, and animal species.
Research Topics
Long-term experiments, often of a duration greater than one year, have been conducted to observe ecosystems under the influence of hydrocarbon, enhanced nutrients, different nutrient ratios, sewage sludge and effluent, polluted sediments, salinity gradients and stratification.
Many short-term experiments have been conducted to observe the behavior of several individual hydrocarbons, trace metals and animal species, such as larval fish.
Equipment
The facility has laboratories for biology, radio-tracer studies, and nutrient chemistry:
– Analysis of dissolved and particulate nutrients with an Automated Analyzer. Phosphate, nitrate, nitrite, ammonia, and silicate analyses are available
– Chlorophyll extraction and analysis with a Turner Fluorometer
– Productivity measurements using a carbon-14 tracer
– Total Suspended Solids (TSS) analysis
– Dissolved Inorganic Carbon (DIC) analysis
– Benthic invertebrate identification and analysis – Winkler titrations
Photos of experiments/installations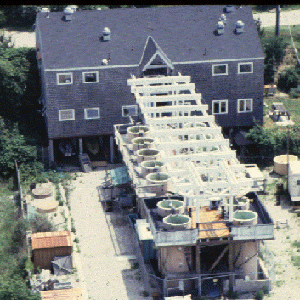 MERL facility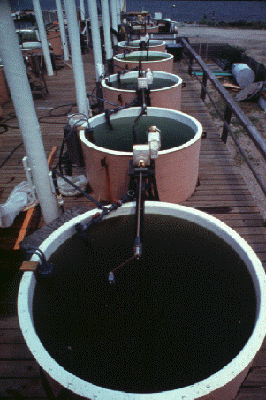 MERL outdoor mesocosms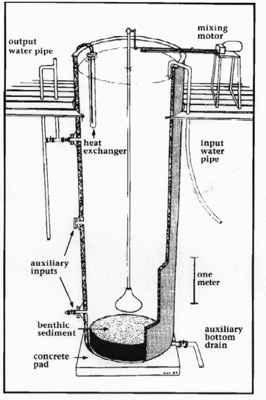 Schema of the MERL construction