Legal name of organisation
Institut für Gewaesserschutz
Organisation address
Institut für Gewaesserschutz
Neu-Ulrichstein 5
D-35315 Homberg (Ohm)
Primary contact information (PI)
Years of Mesocosm Experiments
Description of Facility
outdoor – pelagic/benthic – freshwater
18 to 25 land-based microcosms/mesocosms
Research Topics
ecotoxicilogy, phytoplankton, macrozoobenthos, emerging insects, plankton, macrophytes, periphyton
Equipment
Analysis of physical-chemical parameters e.g. temperature, pH, conductivity, dissolved oxygen, water hardness, ammonium, nitrate and phosphate
Especially designed traps and equipment is used to monitor biological parameters like macrozoobenthos, emerging insects, plankton, macrophytes and periphyton by a well trained team to ensure consistent and appropriate sampling processes.
At MESOCOSM GmbH we can identify and count phytoplankton and periphyton via microscope, but also by using delayed fluorescence technique. This allows a close observation of the development of the algae community.
Photos of experiments/installations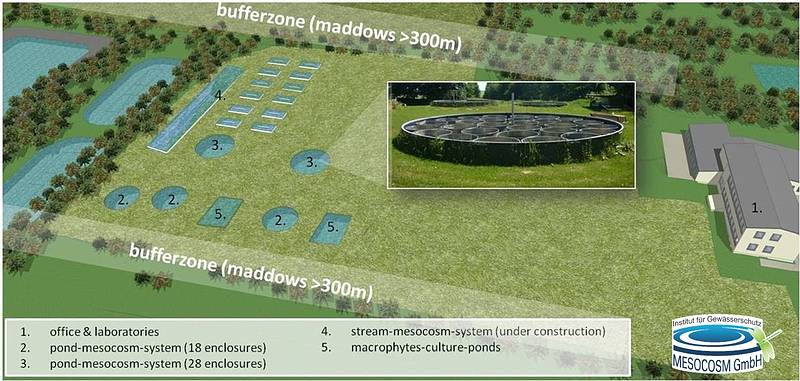 Mesocosm GmbH – schematic design of the test facility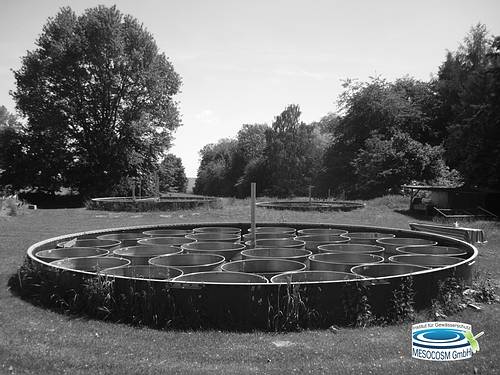 Mesocosm test basins